Camera Remote Bluetooth Remote Controller

ESP32 MINI TIN CAN (SIMPLE)

Demo Videos

ESP32 Mini Version Demo

Version Information
Mini Tin Can remote controller.
No display and simple mode.
Buttons

Yellow: Flash
Red: Photo
Green: Video
Blue: Action
Black: Switch Camera
White: Reset

Connect remote controller from Android app paired bluetooth list.

Software for Programming

Parts
ESP32 D1 Mini

Tin Can Box

Push Button

Power Switch

Lithium Battery

Battery Charger

Tin Can Box (Mini)
Button Switches: Momentary Tactile Push Button Switch, 6x6x8 mm
Power Switch: SPST Tactile On Off Push Button Switch
Optional: Rechargerable Lithium Battery, 3.7V
Optional: Lithium Li-ion Battery Charger Module, Output 5V

Codes and Schematic
ESP32 Mini Tin Can (Simple)

Download codes.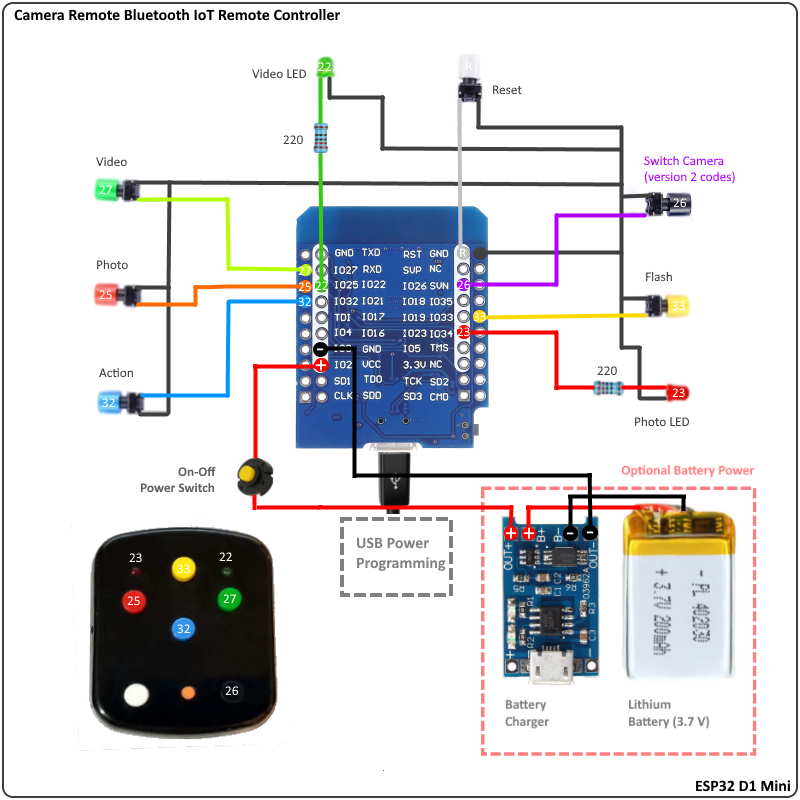 x